We take your feedback to heart and believe that our builders can help shape the future of the platform. We'd like to know what's important to you so we can create the best product.
Your feedback helps us determine what features and capabilities to add to Quickbase. Note that product feedback is just one part of the equation. We also consider factors such as overall product strategy and market trends to ensure our roadmap serves as wide an audience as possible.
Adding requests
Request a feature or functionality
Go to My Apps page and click Give Feedback (left side of the page).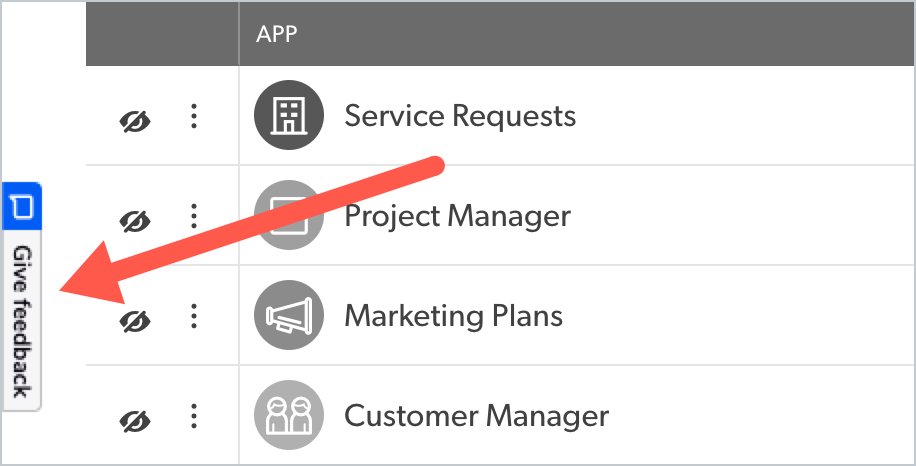 Click Make a suggestion.The Submit a Request screen appears.

Under How can we improve the Quickbase product?, start typing your request. You may see a matching request as you type. If a request matches what you are asking for, click the thumbs up icon to add your support.

Add details of your request and click Submit request.
Report a bug or issue
Prioritizing feedback
We encourage you to periodically review the requests you've submitted or supported to ensure they reflect your priorities. When you access feedback, you'll see a list of all the requests you've supported. Drag the slider next to each item to reflect how important each request is to you.
Making a great request
To help us evaluate your request, please make sure it's clear, concise, and complete. Explain exactly what you're asking for, provide the context of the request, include use cases, and describe how you're currently addressing the problem.
Here are some additional tips:
Title: This should be clear and to the point. Avoid vague language and jargon so we can understand.

Description: Add details to your request here. Include all the information that we need to make a decision. Describe the problem you're trying to solve, any necessary context, and examples.

Files: Upload any files that clarify or communicate your idea. Screenshots should be clear and not include any sensitive information.
What happens next?
All new requests are set to the "Gathering input" status so that other users can vote, prioritize, and add more context. This allows us to understand the demand for the request, gather use cases, and establish impact and value.
Feedback statuses include:
Not reviewed
We haven't looked over your feedback yet.
Gathering input
We're waiting for other customers to vote, prioritize, and add additional context to your feedback.
Closed
We've carefully considered your feedback and have decided not to implement it because:

A similar feature or functionality already exists
There isn't sufficient demand for it from other customers
It relates to a particular app and not the Quickbase product
It doesn't align with our overall product strategy or is not possible due to technological reasons

Planned
We're preparing to implement your feedback in a future release.
Building
We're currently implementing your feedback for a future release.
Released
We've implemented changes based on your feedback.

Please note:
If the feature or functionality already exists in Quickbase, the request will be set to "Closed" with instructions on how to use the feature.

If the feedback you submitted already exists, it will be merged into the original item
Quickbase continuously evaluates customer feedback to ensure that we're focused on the right things. We discuss the highest priorities for our customers, team members, and prospects and look at how the requests align with our own product strategy.
As we evaluate requests, we'll update the status of each in our feedback so that you'll know the outcome as soon as possible
If we decide to build a feature or make an improvement, the status will change to "Planned" or "Building". If you've submitted or voted on a request, you'll get an email notification when the status changes. We will also share an explanation for for status updates when applicable to keep users in the loop.
Click Give Feedback to see the most up-to-date information about our products and what we are building next. We will always provide an explanation as to the nature of the status update.
If you reach out directly to our technical support or customer success teams, they'll be able to look up ideas for you, but they won't have any additional information or provide an estimate for when your request will be reviewed.
FAQs
How long will it be before the product team reviews my idea?
We review as many ideas as we can, up to 10 of the highest rated requests each month. Be sure to follow feedback guidelines and prioritize your requests.
My request hasn't been reviewed yet and I submitted it 6+ months ago. What can I do?
If we haven't reviewed your item yet and it is a high priority for you:
Make sure it's at the top of your priority list

Make sure your request is clear. Why do you need this? What is it stopping you from doing? What is the impact of that? Please add these details in a comment on your idea. See additional guidelines.
Thank you for your feedback, understanding, and support as we work together to build the best product possible!