Connection Central is a centralized hub that showcases critical information related to connections associated with your Quickbase app. If you're an App administrator, you can use Connection Central to gain valuable insights about the pipelines that interact with the app. You'll be able to gather comprehensive information about usage patterns and gain a deeper understanding of the data flow within your app. You can also see a list of connected tables (Quickbase Sync) that use tables in your app as their source.
As an App admin
To access this new connection information, navigate to your app, click on the settings icon, and click Connection central under Advanced Features.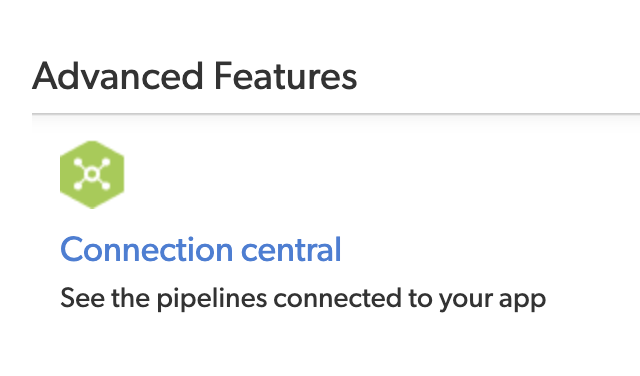 Then choose to view information for Pipelines or Quickbase Sync.
Pipelines
On the Pipelines tab you'll see:
The pipeline listing order is case insensitive, presented in the order of mixed upper and lower case such as a, A, B, b, c, C, etc. Connection central shows connected pipelines to your app that are using the Quickbase channel.
This only shows connections based on a selected table within the Quickbase steps and does not support table/appIDs provided through the Quickbase Make Request steps, nor from any other channel that could call Quickbase through an API such as the Webhooks or JSON Handler channel. If an app's table referenced in a pipeline is moved or removed, the pipeline will still appear in Connection central until the pipeline is edited. If you have many pipelines connected to an app, you may want to download a CSV of this information. To export the pipelines list, click the download icon in the upper right corner of the page.
Note: When you hover over the tooltip, you'll see, 'Export x Connections as CSV' where the x reflects the total number of pipelines across the pages.
Connected tables (Quickbase Sync)
Connection Central shows which tables in the app are being used as the source of a connected table, where the connected table resides, who owns the connection, and when the connected table was last refreshed.
On the Quickbase Sync tab you'll see:
Notes:
Connected tables will continue to be listed in Connection Central after the connection owner has been denied, deactivated, or removed from the source and/or destination app. After a connected table has been deleted or disconnected, it will no longer be listed in Connection Central. If a connected table belongs to an inactive Quickbase account, it will not be listed in Connection Central. See Viewing connected table details to learn how to find information about the connected tables that reside within your app.