5.21.23
Contents
New
Quickbase Solutions Versioning — available on Business & Enterprise plans, June 7
Update: We announced versioning capabilities would be available on May 31. We had to postpone, and versioning will now be available June 7.

If you ever needed to make self-administrated backups and restoration of Quickbase schema, but didn't have an easy way, now this is possible. You can version single apps, pipelines or a combination of them together. Start by defining a "Quickbase Solution" - a combo of apps and pipelines that represent your business process and need to always be in sync. Once you have your Solution, you can store backups of the Solution's schema at any time you like and keep them in a library. In case something is not working as desired, a relationship gets messed up or a pipeline stops working for some reason, you can revert to any of the stored back up versions, thus making sure data and processes keep flowing. And the best part is, reverts do not impact the data in your Solutions, so you will not be losing data you accumulated in the meantime. This capability will be available on Business and Enterprise plans on June 7.
For more information, see Versioning and Rollbacks and My solutions.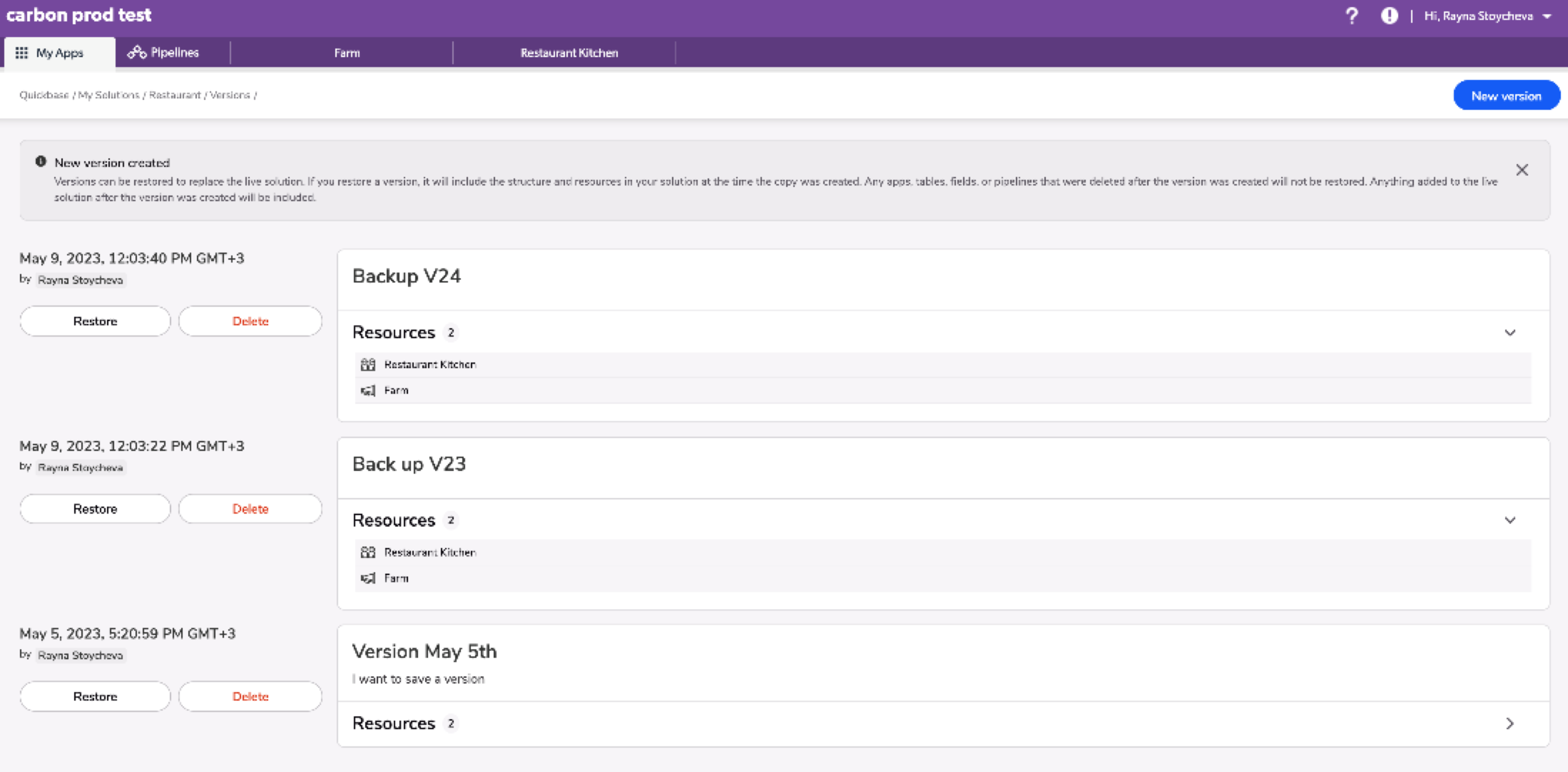 Invoices from before August 2022 can be directly accessed
You can now access invoices for your Quickbase plan from before August 2022 using Invoice History. From here you can download any of your invoices you may need.
For more details see View billing invoices.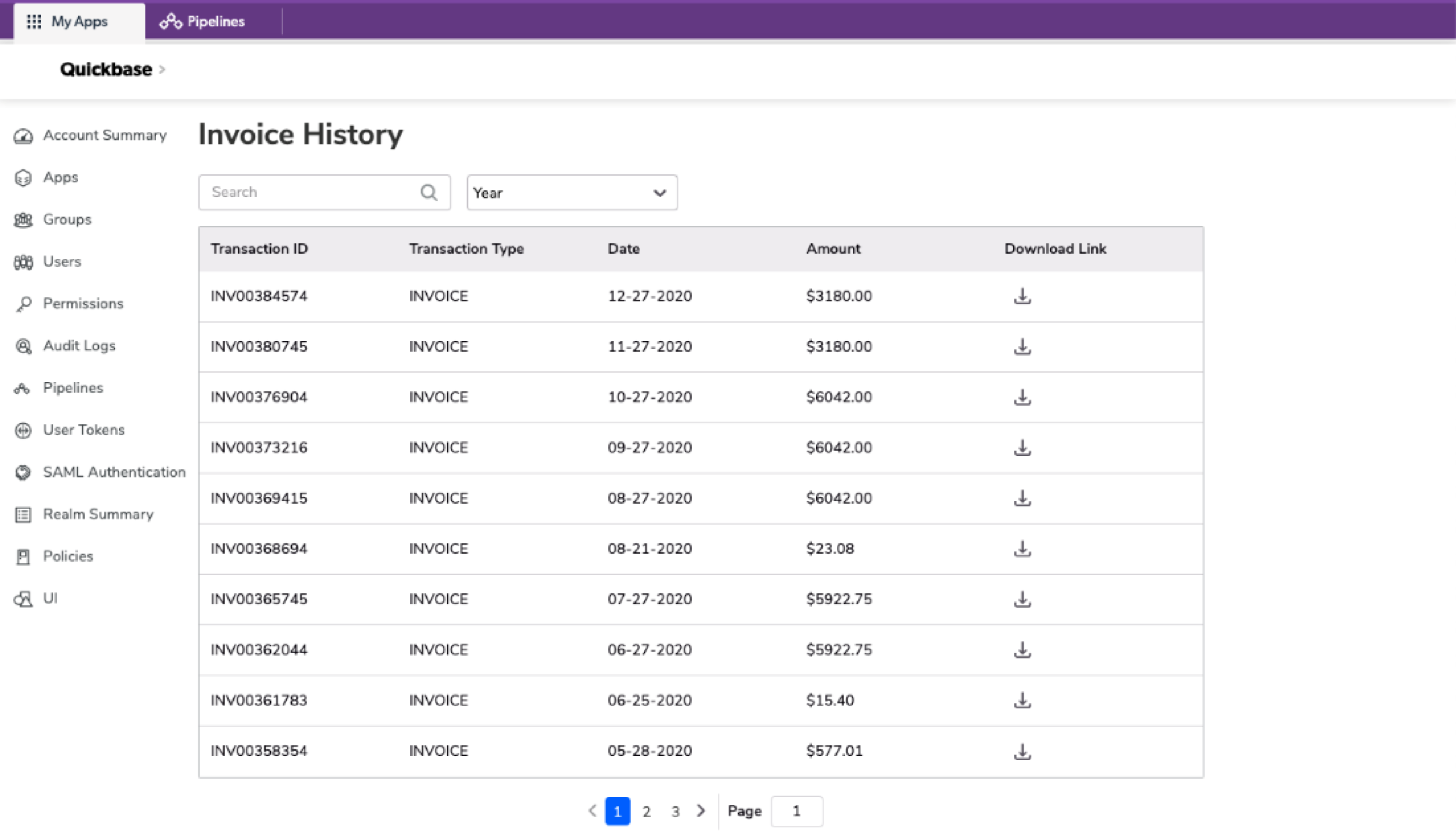 File Manager: Drag and Drop Multiple Files at Once
Starting May 31st, app users can experience new levels of productivity when it comes to file storage in Quickbase!
After an admin installs the File Manager plugin and configures fields and forms, app users will be able to quickly and easily drag and drop multiple files to existing or new forms using desktop or the mobile app. See File Manager plugin to begin to use this new feature, complete the setup and configuration.
Enhancements
Access Procore Change events from Quickbase
You can now easily get access to the latest changes made in Procore Financial Management by using the Procore channel in Pipelines. This means you can stay up to date with all your Change events data.
In Quickbase, you can customize your reports to track project finances according to your needs. By consolidating Procore data into Quickbase, users can gain deeper insights into project budgets, expenses, and variances, and monitor the financial health of the projects in real-time.
With real-time data syncing and improved visibility into project financials, you can proactively identify potential budget overruns and take corrective action before they occur. This can help you stay on track with project budgets and avoid costly delays or penalties.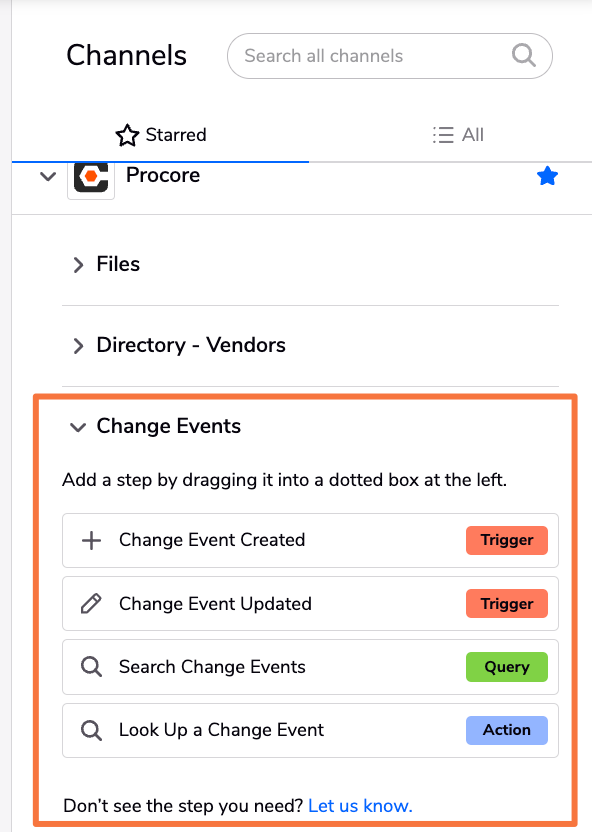 Quickbooks
In the Quickbooks channel, "Rate" (Unit Price) data for each Line is now available in Invoices.
When using the Create an Invoice step for the Invoices resource, you can now specify a unit price (under the "Rate" area of the QuickBooks Online UI) to specify either unit price, a discount, or a tax rate for line items.
Beta opportunities
FEATURE
DESCRIPTION
STATUS
HOW TO PARTICIPATE
Mobile Dashboards

Starting 23rd May customers will be able to interact with dashboards from the Quickbase mobile application. Our Mobile Dashboards will make it easier for users to access their reports, KPIs, daily tasks and actions through a modern interface, optimized for the mobile devices.

Beta

Join the waitlist in the

beta registration app
Data Analyzer

The Data Analyzer is Quickbase's new AI-powered feature to get insights into your data. By building a Machine Learning model, the feature creates an analysis for the user with statistical correlations between the data and a desired outcome.

Beta
Join the waitlist in the beta registration app
What's fixed in Quickbase
ISSUE

AREA AFFECTED

WHAT WAS BROKEN

WHAT WE FIXED

QBE017914, QBE017915

Quickbase Sync

The Test Connection button for a Quickbase connection wasn't returning the expected error when the connection is restricted by security policies/options.

The Test Connection button will now return the expected error if a Quickbase connection won't work because it is being restricted by security policies/options.

QBE017615

Pipelines

Pipelines appear blank when you update the date/time filter with the options "before" and "after" with a value set.

You can now update your filter values and options in real-time without interrupting the pipeline. This means you can easily modify the filters as needed without worrying about causing any disruptions to your pipeline.

QBE017896

Gantt

Accent character entry in a project name field caused different text characters to appear in the project and related task name fields.

With or without UTF-8 encoding enabled, accent characters will appear as typed.

QBE016231,
QBE016238,
QBE016344

UTF-8

With UTF-8 enabled, some multi-word searches that contained a UTF-8 character did not return expected results.

We've improved case-sensitive searches for UTF-8 data when UTF-8 is enabled.

QBE17902


Pipelines

A bug in the Procore channel prevented files from being extracted out, and uploaded into other system using the "File Handler Transfer" details.

Starting May 25, 2023, this bug will be resolved and working properly again.

QBE17844


Pipelines

In the "Send an Email with Attachments" step of Outlook within Pipelines, when you attempted to send an email that contains attachments it would result in an "Access denied" error when the "From" address is explicitly set as a shared mailbox address.

This will be resolved starting May 25, 2023 and work as intended.