In every Quickbase application, different users play a variety of roles. Whether you're setting up applications or simply using them, it's helpful to understand the different types of users and how they relate to each other. The world of Quickbase users looks something like this: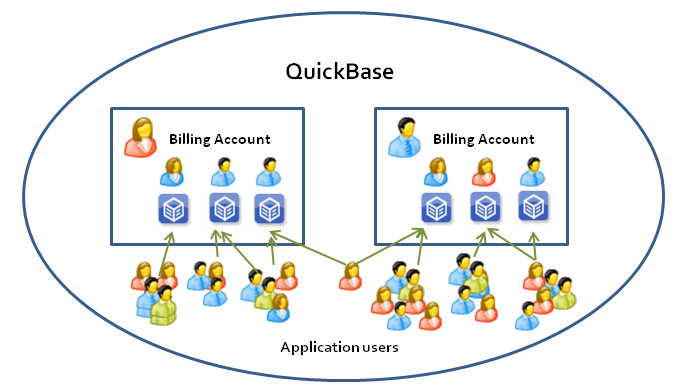 Billing Account Administrators
Each Quickbase billing account generally has one central contact: the Billing Account Administrator. Billing Account Administrators can:
Create applications

Create other billing account administrators and application managers

Control user permissions to your billing account.

Add users to groups

Add provisional users to groups. Provisional users are users who have yet to register in Quickbase. (To learn how to assign an unregistered user to groups, read Provisioning Users.)

Deny a user access to all applications in your billing account
Billing Account Administrators typically don't add or invite users to applications; it's up to each application manager to add and invite users for their applications. Once a user accesses an application in your billing account, Billing Account Administrators see their name listed on your account's Users with Access list. (To view this page, access the Manage Billing Account page and select the Users with Access tab).
Application managers
Each application has only one application manager. Generally, the application manager is the person who created the application.
While application managers have full management rights within an application, this is not what sets them apart from other users; other users, in fact, could have the same permissions in an application. The application manager is the only user who can do the following:
"Downgrade" thier own role while always retaining the ability to restore it. In other words, an application manager can assign to himself a role that does not have user management permissions and always be able change back to thier originally assigned role. Other users will be able to downgrade their role, but if the new role does not allow them to upgrade their role, they will not be able to restore their original permissions.

Note: This functionality is not available to accounts on the Quickbase Essential plan.

Transfer application ownership to another user. Once the application manager transfers ownership, the new user becomes the application manager.
Application administrators
Application administrators are application users whose role allows full administrative permissions on the application. Application administrators can do almost everything that application managers can do (the exceptions are noted above).
Application users
Application users are the people who have accepted an invitation to a Quickbase application. Any Quickbase user with sharing permissions in an application can invite and add other users to the application. Once a user accepts an invitation to an application, they belong to the billing account in which the application resides.
Application users can have access to:
More than one application within a billing account

More than one application across billing accounts
In addition, application managers can add the same user more than once in the same application. For example, in a small organization, you might want to add a user who will play different roles in your application. In this case, you could add two user records for the same user, assigning each a different role.
Related topics: