The Web Page widget allows you to embed HTTPS web pages (HTTP web pages are not supported) inside your app Home page. This allows your app Home page to show web-based applications and services, such as incident trackers and mail clients, as well as useful information such as area maps or stock market reports.
Note: Not all external web pages behave properly when embedded in a Web Page widget. For example, www.google.com does not allow embedding in an iframe. Some examples of pages that do not behave well in the Web Page widget include:
Pages that use HTTP protocol, particularly in the Firefox and Chrome browsers.

Pages that "break frames" will redirect to the embedded site so that you can no longer see the app Home page.

Pages that do not allow embedding in an iframe. If you attempt to embed a page that blocks embedding, the page will never load, and your browser will show an empty box in place of the embedded page.

YouTube videos sometimes remain visible when a Report or Chart widget is expanded to full screen.
Please test your app Home page to see whether the embedded web page will behave as expected before you make it available to other users.
Creating a Web Page Widget
To add a Web Page widget to your app Home page, edit the app Home page. Drag the Web Page widget from the Widget Gallery to your desired location.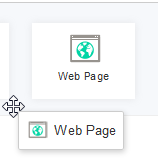 The Settings dialog will open automatically.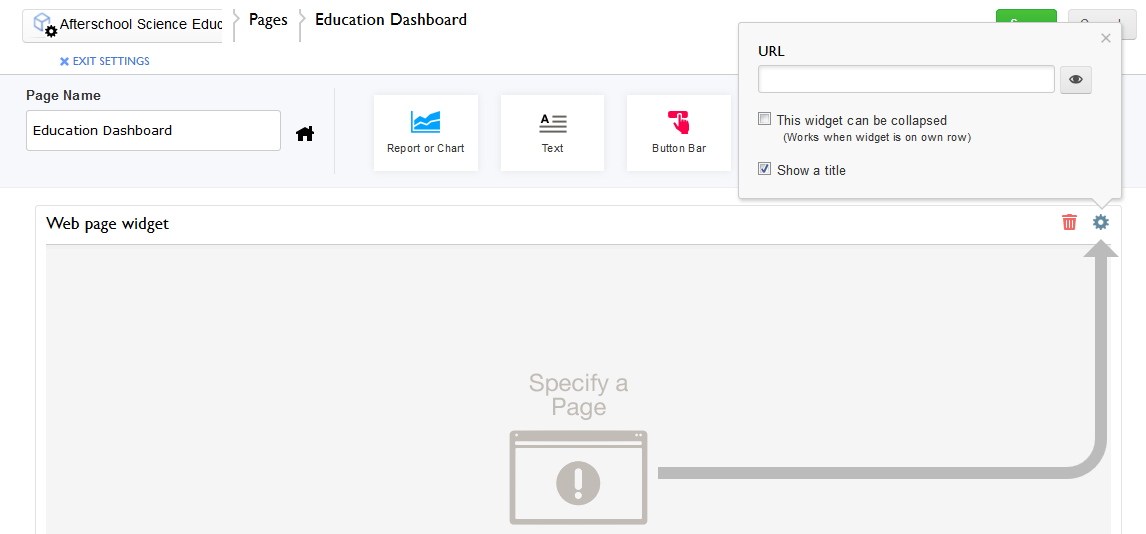 Enter the URL of the web page you wish to embed. You may use the Browse button (

) to preview URLs you may add.
As with all widgets, you can set this widget to be collapsible, if you have placed it on its own row, to preserve space on the app Home page. You can also choose to show a title for the widget.
Click Save in the Page bar to save your changes.
Related topics: