Use a funnel chart to display progress through any process, for example, a project development cycle or a sales pipeline.
This funnel chart shows sales opportunities by stage, from prospecting to closed/won.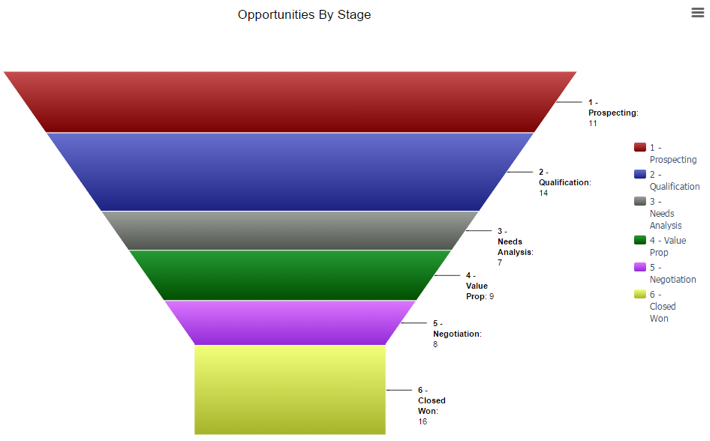 Like all Quickbase charts, funnel charts are interactive; click a segment of the funnel to view the record(s) associated with it. You can also apply dynamic filters to funnel charts.
Tip This funnel displays with 3D-shading. App managers can enable 3D shading for all charts, instead of the default presentation for charts. To enable 3D shading, click Branding on the App Settings page and then select Display 3D shading on charts.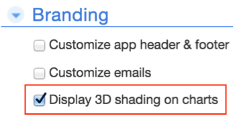 To print your chart or save it as an image, click the menu in the top right of the chart:


To create a funnel chart:
Open the table in the table bar, click REPORTS & CHARTS and then click + New.

Select Chart and click Create.

In the Basics section, Name your chart. This name displays above the funnel chart.

Add a Description.
Tip: Select Show description on chart page so others can easily understand the purpose of your chart.

Select Funnel as the chart Type.

In the Funnel grouping list, select the field that represents segments of the funnel, for example, the Project Stage column.

Select grouping and display options.
In the Data values list, select the field you want to measure within the funnel.
If you selected to measure a Calculated column, select define a calculated column, label it, define the formula, and select the type.

Filter to display only certain types of data or data that meets conditions you set.

Save the chart as Personal (only you can view it) or Common (others can view it). Optionally, you can also assign the report to a group.
Tip: If you choose a Text - Multiple-choice field as the Funnel grouping field, the sections of the funnel are sorted according to the order defined in the multiple choice field (alphabetical or in order in which they are listed in the field definition.)
To define a calculated column to display in the chart
You have to make a report formula and then its name appears in the list of available fields. Before the report formula: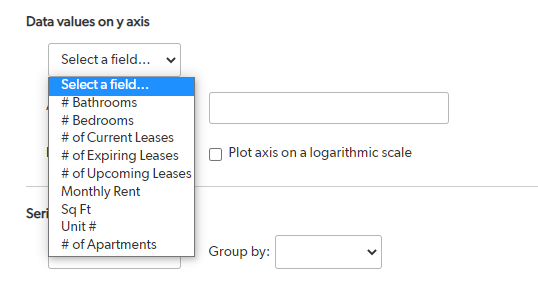 After the report formula has been created: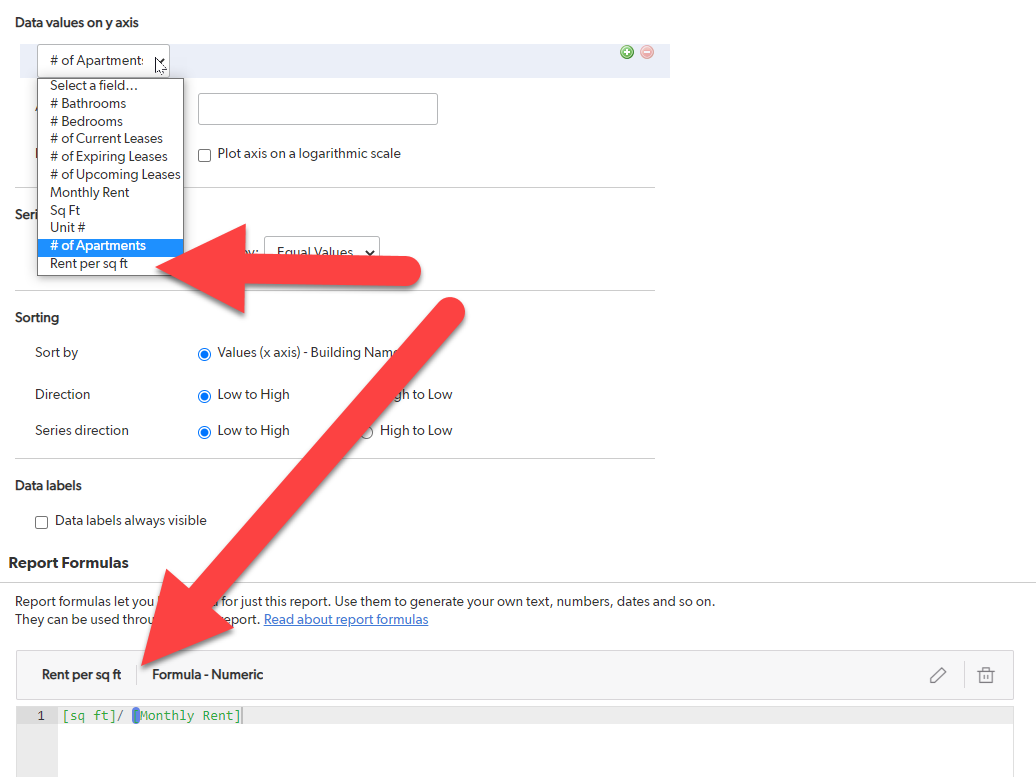 Example
The funnel chart above shows the number of sales opportunities by stage, from prospecting to closed/won.
The funnel is defined as follows:
It is grouped by the Stage field. Each of the stages in the sales cycles makes up a segment of the funnel.
The funnel measures the # of Opportunities are in each stage of the sales cycle.
It displays both the name and number of opportunities in each stage of the funnel (values displayed as Value and Name).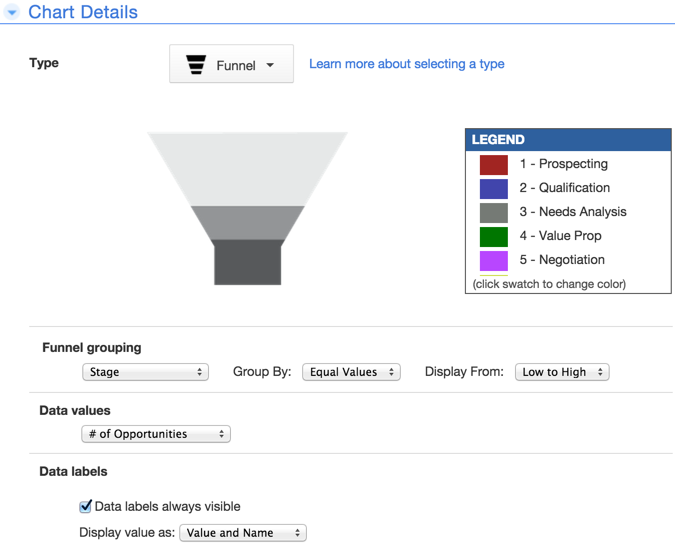 Related topics: