11.13.22
Contents
Enhancements
Map report on new dashboards
You can use the new map widget on dashboards to get more insight from your data when visualizing the location of their records. This is perfect for tracking your work sites, customers, suppliers, and more.
Builders can take advantage of the new capability of customizing the pin color and icon when visualizing the map report on new dashboards.
Additionally, builders are now able to display up to 1,000 records per map report on new dashboards.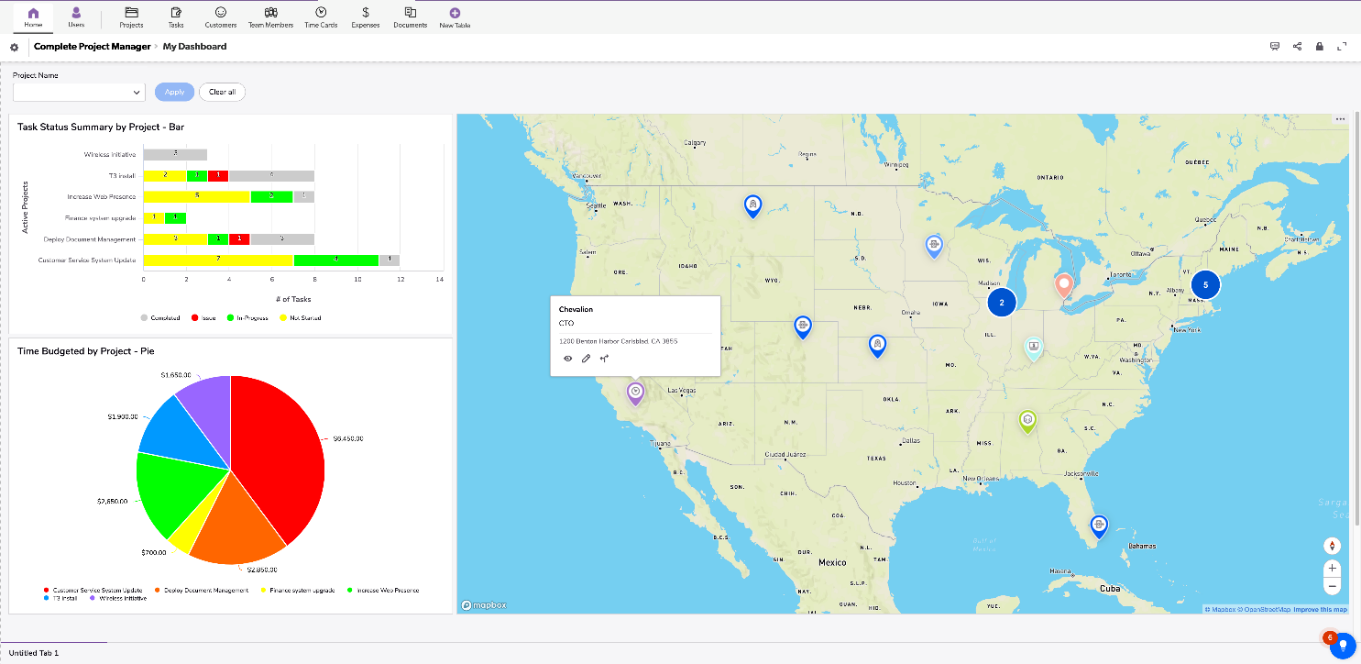 Beta opportunities
FEATURE

DESCRIPTION

STATUS

HOW TO PARTICIPATE

Sensitive Data Scanner

Account admins on Enterprise subscription plans can now scan their Quickbase applications for sensitive data (eg. PII data — Name, Location, Email, Phone number, Social Security number etc.)

With the Sensitive Data Scanner technology integrated into Quickbase and the existing Data Classification functionality, account admins will be able to make sure that their data is up to date and applications have correct data classification tags assigned to each app.

Beta

Gantt Plugin

App admins on Enterprise and Business plans can add the fully interactive Gantt Plugin to their Quickbase applications. The Gantt Plugin includes the following features:

Fully interactive interface to manage all tasks and resources for a single project

Support for all 4 dependency types (SS, SF, FS, FF)

Task > Sub-task hierarchy

Critical path

Baselines

Auto-scheduling

Resource management

Zoom in/out, full screen, undo/redo

Export to excel

Beta
What's fixed in Quickbase
| | | | |
| --- | --- | --- | --- |
| ISSUE | AREA AFFECTED | WHAT WAS BROKEN | WHAT WE FIXED |
| QBE016964 | Dashboards | Labels in search widgets could be incorrect when there were more than one widget on the dashboard | Search widgets will show the proper set of fields to use when searching |
| QBE017375 | Pipelines | You can now add an existing tag to a pipeline | You can now add more than one tag with the same name. |
| QBE017383 | Pipelines | Updates to connection central may have been delayed longer than expected. | We have improved the time it takes for updates to occur for Connection Central. |
| QBE017403 | Pipelines | For Realm Admins, after closing a browser window when impersonating a user in Pipelines, navigating to Pipelines would not always indicate that you were impersonating nor provide the option to return to your pipelines. | This error no longer exists |
| QBE017355 | Quickbase Sync | When a connected table had a connected field that was changed from a Text field to a Date/Time field, we assumed the value in the field was in UTC if no time zone offset was included (for example, when the source was a CSV file) | Now we will assume the value is in the time zone of the connected table's app |
| QBE017436 | Reports - Other (includes Table Home Page) | Users could not organize reports. They would see console errors | Users can now organize reports without seeing errors |
| | Pipelines | Help link was broken on the Quickbase channel connect dialog screen. | The help link is now fixed on the Quickbase channel connect dialog screen. |
| QBE017208 | Reports - Summary | The Summary Report had issues when loading. You couldn't save or access the summary formula. | The Summary Report now works correctly. |